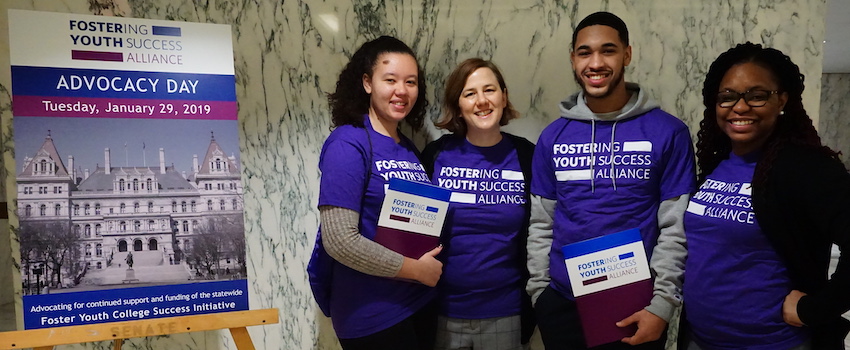 On Tuesday January 28th, 2020, Please Join the Fostering Youth Success Alliance for Advocacy Day in Albany, NY.
Foster Youth College Success Campaign
Help us advocate for the continued funding support of the Foster Youth College Success Initiative (FYCSI). First established in April 2015, FYCSI connects foster care youth and alumni to financial supports and comprehensive resources on college campuses. From 2015-2019 750 foster youth received direct support through the program and even more than 900 are on track to do so in the coming year.
Nationwide just 18-24% of youth in care will enroll in college after high school and less than 3% will go on to graduate. FYCSI provides these foster care youth and alumni with the resources necessary to earn a college degree and achieve true independence, but it needs continued funding in order to do so. Join us on Advocacy Day to make sure FYCSI can continue to support hundreds of foster care youth and alumni from all across the state!
Advocacy Day Agenda
9:30 am – 4:00 pm
Legislative Office Building, Albany, NY
Breakfast and lunch will be provided
Free transportation will be provided via charter bus. You must RSVP for a space on the bus during your registration for advocacy day. Transportation will be provided on a FIRST COME, FIRST SERVED basis.
New York City: 150 E 45th Street, New York, NY 10017 (Children's Aid, Lord Memorial Building).
The bus will begin boarding at 6am and depart promptly at 6:15am
We hope you will join us for this advocacy day at the State Capitol. Thank you!