For Immediate Release:
January 30, 2018
COLLEGE AGE FOSTER YOUTH SEEK CONTINUED SUPPORT FOR HIGHER ED OPPORTUNITIES
Executive Budget Proposal Falls Short of Need; More than 500 Youth in Jeopardy of Losing Critical Support
College-age foster youth from across New York are asking legislators and state officials to continue supporting the Foster Youth College Success Initiative (FYCSI) and make room for the incoming September Class by boosting funding for a special program for young people currently or previously in the state foster care system. In total, the program requires resources of $6 million in the 2018-19 state budget to maintain support for a group of 500 students in pursuit of their higher education aspirations and open the doors to approximately 350 additional students anticipated to begin college in September.
The Initiative has received strong endorsement from notable figures such as Assembly Speaker Carl Heastie, other key members of the Assembly majority conference, higher education officials, and a coalition of advocates led by the Fostering Youth Success Alliance (FYSA).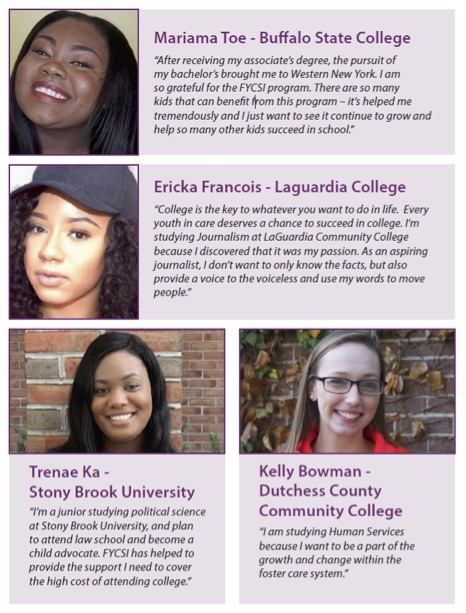 Jessica Maxwell, director of FYSA, said: "Starting in 2015, state leaders have made a strong investment in young people from the foster care system. However, this year's executive budget proposal of $1.5 million falls short for those already in college and shuts the door on new students.  The program will require an additional $4.5 million to keep students making progress toward their degrees in the classroom and on campus."
Only one in five college-age foster youth ever set foot on a college campus and less than 3 percent ever graduate.  "For the nearly 2,700 college-age youth in the foster care system and those who have aged out of care, the pursuit of a college education may simply be too complex, expensive and difficult to face alone," said Maxwell.
On January 29, youth from the FYCSI program, which provides resources for housing, transportation and academic supplies, will be paired with a bipartisan group of legislators through an event that allows students to shadow legislators while they work in and around the Capitol. Over that time, the student advocates get to communicate to the elected leaders the challenges that they are overcoming to pursue their degrees despite the fact that they are often navigating the many collegiate processes on their own.
Assemblymember Deborah Glick, chair of the Assembly Committees on Higher Education and Children and Families and have supported the program since its inception.
Assemblymember Glick said: "The Assembly first championed the FYCSI program when it was simply a notion.  Since 2015 it has grown into a reality for more than 600 youth in care.  Now with students preparing to graduate this spring we must maintain our commitment and support their achievements and dreams.  And, we must also remember those students similarly situated and provide them with the opportunity beginning in September."
Foster Care Facts
In New York State:
16,000 children and youth are in foster care, of which 40 percent are adolescents and young adults (age 14 and above);
2,700 youth are of college-age; and approximately three  percent  earn  their degrees;
500 college students are being served through the Foster Youth College Success Initiative at this time at SUNY, CUNY and private colleges; 
60 percent of the general population attends college after high school; nationally, youth in care attend at a rate of approximately 20 percent; and
People with a bachelor's degree in New York earn about twice as much annually as those with only a high school diploma.
Members of the FYSA Steering Committee are:
Albany's LaSalle School (http://LaSalleAlbanyNY.org)
Region -- Albany
Children's Aid (http://www.ChildrensAidNYC.org/ )
Region – New York
Council of Family & Child Caring Agencies (http://www.cofcca.org/ )
Region – Statewide
Community Service Society of New York (http://www.cssny.org/ )
Region – New York
The Door (http://www.thedoor.org)
Region – New York
Elmcrest Children's Center (http://www.elmcrest.org/ )
Region – Syracuse
Federation of Protestant Welfare Agencies (http://www.fpwa.org/cgi-bin/iowa/home/index.html )
Region – New York
Good Shepherd Services (http://www.goodshepherds.org/ )
Region – New York
Graham Windham (http://www.graham-windham.org/ )
Region – New York
Hillside Family Agencies (http://www.hillside.com/ )
Region – Buffalo, Rochester and Syracuse
Hope for Youth (www.hfyny.org )
Region – Nassau & Suffolk
Lawyers for Children (http://www.lawyersforchildren.org/)
Region – New York
New Directions for Youth & Family Services (http://fosteringgood.org/ )
Region – Buffalo
New York State Permanent Judicial Commission on Justice for Children (http://www.nycourts.gov/ip/justiceforchildren/)
Region - Statewide
New Yorkers for Children (http://newyorkersforchildren.org/ )
Region – New York
Schuyler Center for Analysis and Advocacy (http://www.scaany.org/ )
Region – Statewide
Sheltering Arms Children's Services (http://shelteringarmsny.org/)
Region – New York
Westchester Children's Association (http://www.wca4kids.org/ )
Region – Westchester
Youth Power (www.youthpowerny.org )
Region – Statewide
Children's Aid is an independent, nonprofit organization established to serve the children of New York City. Our mission is to help children in poverty to succeed and thrive. We do this by providing comprehensive supports to children and their families in targeted high-needs New York City neighborhoods. Founded in 1853, it is one of the nation's largest and most innovative non-sectarian agencies, serving New York's neediest children. Services are provided in community schools, neighborhood centers, health clinics and camps. For additional information, please contact Patrick Egan  at (212) 286-1548 / (718) 551-6603, email pegan@childrensaidnyc.org.