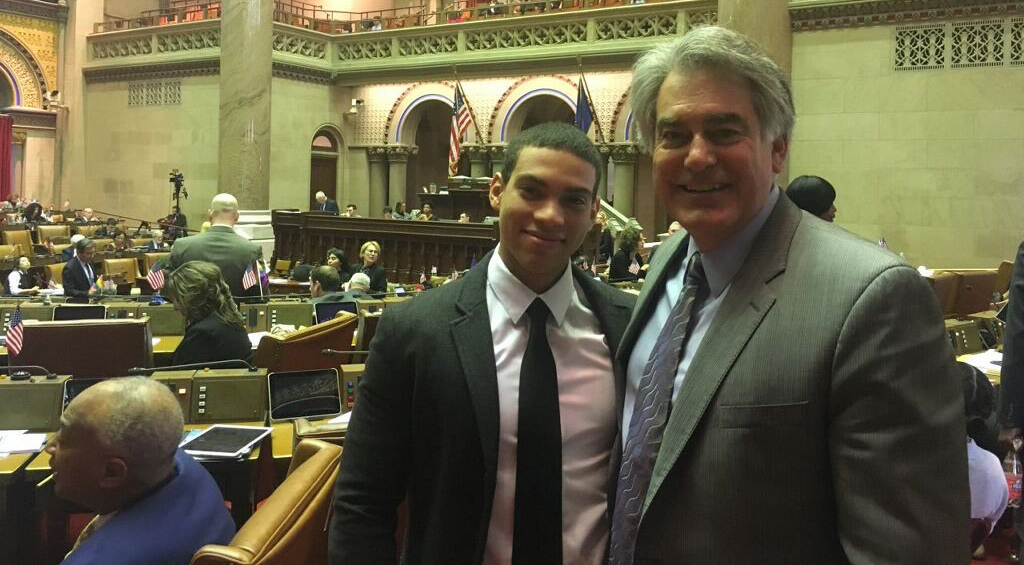 Assembly member Al Stirpe, District 127, and Julio Reyes, senior at Binghamton University
On January 29, the Fostering Youth Success Alliance (FYSA) hosted the first ever New York State Foster Youth Shadow Day. Twelve college students from across the state traveled to Albany and got the opportunity to shadow one of New York State's assembly members, senators, or a staff member from the governor's office. In the process, the advocates learned about how state government functions while becoming more civically engaged as youth advocates.
The students really enjoyed the experience and felt it was a great opportunity to not only learn about the political landscape of NYS but also to share their story with somebody that has the power to implement legislative change. Trenae Ka, a student at Stony Brook University, said, "I had the opportunity to shadow Senator Phil Boyle, the senator of the 4th district in Suffolk County, Long Island. During my day I was able to sit in on an Economic Development hearing, spend some time in the chambers, and sit in on meetings with Senator Boyle. The overall experience was amazing. As a political science major, I read about these things all the time but actually seeing everything in person and being a part of the process was incredible."
The students also enjoyed getting to meet and bond with each other over the course of the two days, and we hope they continue to keep in touch with one another to mutually inspire and motivate. State leaders who acted as mentors also expressed thorough enjoyment of the opportunity to learn more about the students' experiences in foster care and hear about their future aspirations. Trenae added, "I'm am so grateful for the opportunity, and I definitely think that more youth should be able to experience something like this as well."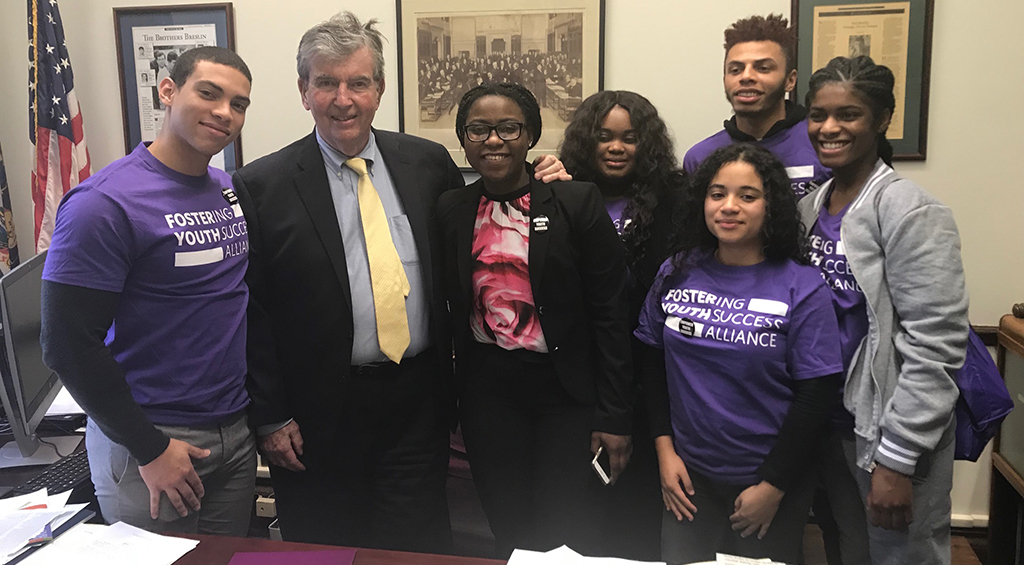 Senator Neil Breslin, District 44, meeting with a group of students.
The following day, FYSA hosted its annual Advocacy Day at the Legislative Office Building. Over 100 youth in care and alumni, staff, and child welfare workers joined us in Albany to advocate for the continued support and funding for the Foster Youth College Success Initiative (FYCSI). FYSA Advocates took to Albany to request the state invest $6 Million for FYCSI.  Governor Cuomo's proposed executive budget for fiscal year 2018-19 included only $1.5 million in funding, a $3 million reduction from last year. If funding is not restored to FY18 levels, two current cohorts of students will be without the essential supports and will likely not be able to continue on in college. Furthermore, without an additional investment of $1.5 million, the program will not be able to expand to a fourth cohort of students beginning college in fall 2018. Launched in 2015, FYCSI enhances existing opportunity programs at CUNY, SUNY, and independent colleges across New York to provide financial, academic, and social support services for youth in care attending college. These support help students apply to college and ultimately succeed once they get there.
Our advocates had over 50 meetings with legislators throughout the day, discussing the importance of the program for young people. Kisha Baker, a student at SUNY Canton, commented, "FYSA Advocacy Day was an extraordinary experience! I hope the elected officials that had the chance to hear us tell our stores listened to us and now understand the need to keep the funding for the FYCSI. It is unfortunate that some people talked about how they met with some legislators who did not fully pay attention to what the advocates were trying to tell them. However, it is important to understand that this is just a part of advocacy work–you won't always find people that agree with you but you must always keep fighting to change their minds. I'm glad I got to meet with legislators that were supportive of this program and actually listened to what I had to say."
We thank the young people for sharing their stories on how FYCSI has improved their lives. We hope we were able to make an impact on the decision of elected officials to continue to fund the program!