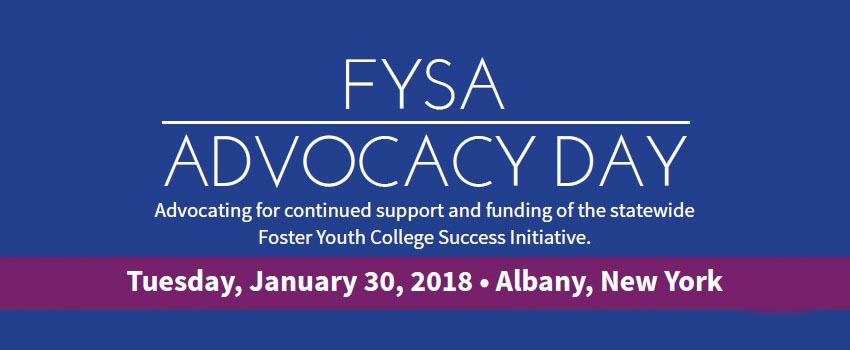 Registration is now closed.
On Tuesday January 30th, Please Join the Fostering Youth Success Alliance for Advocacy Day in Albany, NY.
Foster Youth College Success Campaign
Help us advocate for the continued funding support of the Foster Youth College Success Initiative (FYCSI). First established in April 2015, FYCSI aims to connect foster care youth and alumni to financial supports and comprehensive resources on college campuses through the opportunity programs. FYSA released our first report, Fostering Independence, in May 2014, which identifies the unique challenges youth face while transitioning from foster care to college. Just 18-24% of youth in care will enroll in college after high school. FYCSI aims to enable foster care youth and alumni with the resources necessary to achieve a college degree and become independent.
Advocacy Day Agenda
9:30am – 4pm
Legislative Office Building, Albany, NY
Lunch will be provided
Transportation will be provided via charter bus, you must RSVP for a space on the bus during your registration for advocacy day.
New York City: 150 E 45th Street, New York, NY 10017 (Children's Aid, Lord Memorial Building)
The bus will begin boarding at 6am and depart promptly at 6:15am
Westchester: 11 Ferris Avenue, White Plains, NY 10606 (White Plains Bus Terminal)
The bus will begin boarding at 6:45am, and depart promptly at 7:00am
We hope you will join us for this advocacy day at the State Capitol. Thank you!
Advocacy Day FAQ's
I would like to participate in the Staff Only Training Webinar what is the link? The webinar link will be shared one week prior to the webinar date, this link will only be sent to attendees that RSVP'd to this date during registration.
I am bringing a group of youth advocates, how many youth can I bring? The more the merrier! If you are planning to take the free bus and you have more than 10 youth please reach out to policy@childrensaidnyc.org
What happens during Advocacy Day in Albany? We as a group of concerned advocates will host a press conference in partnership with Legislative Leaders to state our request for continued support. Additionally, all attendees will participate in legislative meetings with legislators and staff regarding the initiative.
What should I wear to advocacy day? Business causal is preferred. Comfortable shoes are a MUST as there will be a lot of walking during the day.